The second component of the KMFI involves periodic independent testing of participating companies' products, assessing their performance against the required compliance range. KMFI samples are collected from points of sale, i.e., at markets and supermarkets. Maize and wheat flour flour requires fortification with nine micronutrients, but the KMFI protocols currently test three of these micronutrients—Vitamin A, Vitamin B3, and iron, chosen because of their importance—to serve as anchor nutrients and a proxy for performance against all nine fortification standards for flour. Edible fats and oil require fortification with Vitamin A.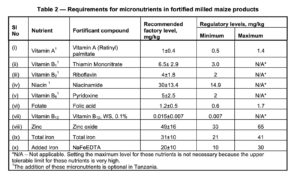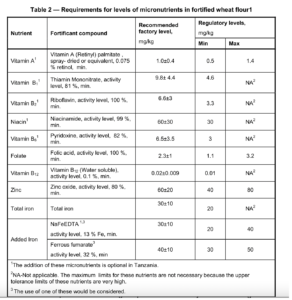 Kenya Food Fortification Standards
The KMFI product testing scoring system currently gives full marks for compliance at 80% of the statutory minimum threshold [1]. This is based on our research showing that many brands have typically not reached this lower threshold. The aim is to encourage brands to build towards full statutory compliance by raising the KMFI thresholds as performance improves over time.
There are detailed KMFI protocols for the identification, collection, storage, dispatch, and recording of samples and results.
[1] This is different for flour with three different micronutrient compounds being tested. All three are expected to attain the 80% threshold for the full product testing score to be awarded.